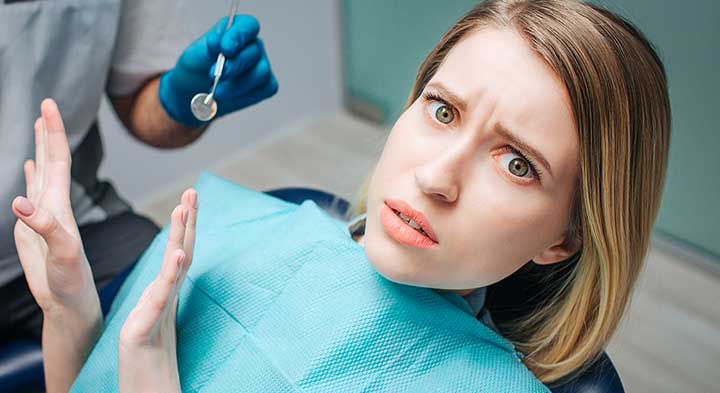 Do you put off your dental visits because you are scared of the treatment? Many of us delay going to the dentist because of fear, thereby causing the problem to fester and end up in an emergency mode. This may seriously affect not only our oral health but also our general health. Preventive dentistry that includes regular checkups could have taken care of those niggling issues right in the beginning.  However, such delays would increase the cost of treatment and also cause you so much more pain in the long run.
How do we overcome our fear of the dentist?
Dentists today are aware that a visit to their clinic can cause deep anxiety in some patients. They are trained to deal with anxiety and take the time to address your concerns. There are several ways in which dentists help deal with fear.
Relaxation: Certain relaxation techniques like yoga or meditation help in controlling the anxiety. Anticipating a visit to the dentist may cause anxiety. It could trigger certain chemicals in our bodies that may make us feel even more stressed. Before you walk into the dental office, practice deep breathing and relaxation techniques.
Relative Analgesia: This is also known as "inhalation sedation". You breathe in a mixture of nitrous oxide and oxygen through a nosepiece. You feel relaxed during the procedure. The dental team puts you at ease and constantly checks to make sure you cooperate. You are conscious during the whole treatment even though you may feel a little drowsy.
There is no overdose to worry about since the mixture leaves your body very quickly after you remove the nose piece and inhale ordinary air.
There are no after-effects and you can drive your vehicle after 15 minutes.
General Anaesthetic: Getting treatment under general anaesthesia in a day surgery, although the dentist recommends this only if all other techniques fail.
How do I choose the best option?
The best option depends upon a number of factors:
Cost and duration of treatment
Existing medical conditions
Consulting with your dentist before the treatment will help you figure which is the best option for you.
At Eastside Dental clinic, a calm atmosphere combined with the latest technology keeping our patients in mind will put the most anxious patient at ease.  Our team will make you feel comfortable, secure and as stress free as possible. From your first call to make an appointment to after service care, you can be assured that your comfort is our top priority. We understand that you may feel anxious about visiting the dentist, but we are here to help you through the whole process.